There is nothing ordinary about this year.  Yet here we are with Thanksgiving fast approaching.
COVID has changed our lives in ways we never dreamed possible.
Even if your own life has not been impacted negatively by the events of the last two years, no doubt there have been huge adjustments.
People everywhere wearing masks, putting on the mask yourself, having less social contact and for many, extra weight gain have been stressors difficult to contend with.
How has Covid affected your mental health, weight and body image?
With Thanksgiving and Holiday season marching towards us, here are 5 tips to help you avoid holiday weight gain during this busy time of year, while at the same time, improving your mental health.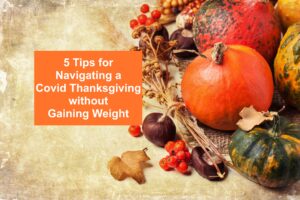 Make a Plan – Not a Diet
Know what you are going to eat the next time you get hungry. If you've ever been a parent or observed a conscientious mom, notice that they always have a plan for what they will feed their baby next.
No matter how full you may feel in the moment, it's predictable that your body will experience hunger, around the corner.
Rather than stuffing a bag of chips into your mouth in a moment of feeling starved or hypoglycemic, have your protein accessible as a way to calm your potentially out-of-control hunger.
Avoid getting too hungry
The best course of action is to avoid getting too hungry in the first place by eating regularly.  Pay attention to your body. Be mindful of your body's needs.
Some of my clients are running around, keeping busy (covid or no-covid), with little regard for their own physical needs. One of the greatest benefits of my weight loss hypnosis is that we can learn to tune in to what we are needing at the exact right time, to avoid causing ourselves extra stress.  Feed yourself the way you would feed a baby—every few hours as needed.
Here's a great tip that works: Carry a "diaper bag" with your healthy snacks with you wherever you go.
Eat Protein and Balanced Meals
The best way to avoid pigging out or out of control sugar and carb cravings, is by eating enough protein.  The secret to health is balancing that protein with lots of delicious green and rainbow-colored vegetables, along with complex carbohydrates.
We need carbs, but make sure you're getting plenty of nutrition by selecting only complex carbs such as root vegetables like potatoes and sweet potatoes, or whole grains.
Include healthy fat such as avocado and extra virgin olive oil in your diet. Avoid processed junk.  Not only does empty calorie junk food make you gain weight, but it robs your body of healthy nutrients, leaving you feeling sluggish and likely depressed.
Access your deeper mind
I can't emphasize enough the importance of "getting out of your head" and connecting to the longing in your deeper heart and mind to create more wholeness.
The physical outer world is filled with chaos—now more than ever, it seems.  That chaos is likely also a mirror for what's going on inside your own self.
You, like all other people, have many parts of yourself. There is a part of you that wants to indulge in sugary "treats" or salty snacks, but there is another part of you that longs to honor your sacred body—your personal home.
Through meditation, self-hypnosis and guided hypnosis you can practice going beyond the chatter and judgments of the mind to take refuge in your own deep heart—where there is an ocean of peace awaiting you.
Accessing this place regularly will help you to make much wiser choices that support your mental, physical and emotional health.
Thanksgiving Gratitude Reminder
Remember that the greatest lesson of Thanksgiving is the value of gratitude. You have come so far in your life. Take time to savor all the good choices you have made and learn from any decisions that may have steered you in the wrong direction.
Grab a notebook and start a gratitude journal.  Writing down your life experiences may prompt you to become more aware of the preciousness of your daily life and the impact you have on others around you.
What a blessing it is to still be alive, to have more time, to leave judgements behind and simply make new, healthy, positive choices based on love, faith and new beginnings.
I wish health and happiness to you and your loved ones.   Happy Thanksgiving!
Blessings to you always,
Rena