The weight loss formula is simple: Eat less. Eat healthy. Exercise. Slender Cider makes weight loss so much easier because it helps cut your appetite naturally and healthfully.
You get all the health benefits of organic apple cider vinegar plus all the delicious, therapeutic herbs in the formula to help improve your digestion, eliminate constipation, and lessen any cravings for fattening, harmful, processed food.
For best results using Slender Cider to help you lose weight, it's best to drink it consistently, before and between meals. One or two tablespoons mixed with water will help cut cravings.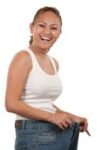 The healing benefits of the herbs, including Cinnamon, Schisandra Berry, Lemon Peel, Ginger and Turmeric are known to lower blood pressure, balance blood sugar to help you avoid diabetes, improve digestion, lower cholesterol and cleanse your body. Cleaver's Leaf, Fennel and Clove help to reduce appetite. The Slender Cider formula has helped many people to lose weight, by increasing the metabolism and increasing energy.
The best way to lose weight is to adopt a sensible eating plan. Slender Cider is a wonderful aid to weight loss.