This recent story in Sarasota Magazine features Terry Cunningham after he lost 100 lb. with my gastric bypass hypnosis program.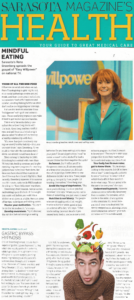 When Terry came to me, he felt miserable! He couldn't button his jeans and he could barely walk up a flight of stairs without getting short of breath. Like many of my clients, Terry thought that the best way to lose weight was to stop eating carbs. Since that made Terry feel completely deprived, he always ended up gaining weight again. He was so uncomfortable and depressed carrying around almost 100 lbs. of extra fat.
He was very skeptical when I told him that with my plan there was no diet to follow—the only rule was eating the fat burning foods I told him about. I also told him that would be easy because I would teach him how to re-train his brain to prefer healthy food.
"How are you going to do that?" he asked skeptically. I told him that I would show him how his unconscious beliefs about food were controlling his life and that I would give him a strategy to master his own mind so he could finally lose that extra weight and be free from being controlled by a greedy and manipulative food industry.
He thought he had all the answers—that he already knew how to lose weight– but since he had tried everything including calorie counting & eliminating carbs & nothing worked, he was willing to give it a shot. Terry was so excited about doing my gastric bypass hypnosis and when he left my office, he started losing weight immediately.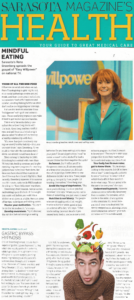 He was so happy when he ended up losing a total of 100 lbs and he's kept it off. After the first 65 lbs, he went on ABC-TV's The List show with me, to share his great results. Terry feels fantastic now and can't believe all the delicious food he gets to eat, on a daily basis.
He was thrilled to share his story recently with Sarasota Magazine.  Click: Sarasota Magazine Gastric Bypass Hypnosis to read the full story and many others.
Feel free to comment below or ask any questions. If Terry can do it, so can you!
To Your Health & Happiness,
Rena
P.S. Lose weight permanently in 2016! Take a look at my popular gastric bypass hypnosis program!