When it comes to staying healthy and at your ideal weight, you've probably heard me talk about two obvious factors – the need to make good food choices and stay physically active. But there's another aspect to health that we often overlook. And that is sleep!
Quality sleep plays a big role in slowing down aging, maintaining a healthy weight and staying energized. Some researchers are saying that low quality sleep, or not enough sleep could raise the risk of diabetes and increase overall caloric intake.
Don't you find that after you've had a bad night's sleep, it's much more likely that you'll compensate by seeking comfort in unhealthy foods?
That's because when you sleep well, your level of growth hormone increases and at the same time your body produces less of the stress hormone, cortisol. So when you throw a wrench into your body's equilibrium by skipping sleep or getting poor quality sleep, your body's chemistry is thrown out of balance.
That makes sense because when you're tired, you tend to eat more food. There is some very compelling research to back this up. To learn more, read my article: Is Poor Sleep Causing You to Gain Weight?
Webinar on Sleep and Weight Loss
Click here to watch my brief but information packed webinar with co-founder of IntelliBed, Shaun Clark.
I share some shocking research on how poor sleep affects your hormones and could be causing or contributing to weight gain. Shaun Clark discusses non-toxic sleep and the necessity of proper back support and alignment for restorative, high quality sleep.
My Own Battle With Insomnia
I suffered with insomnia for years but trying to figure out what might be the best mattress to replace the mattress I had felt like such a big decision. So I put it off.
When it came to choosing a bed, my husband and I had made a lot of bad choices in the past—impulsive decisions in the mattress store, under pressure from a salesperson—not to mention that water bed that had seemed like such a good idea at the time, but then turned out not to be!
Then I was talking to my friend, Susan Smith Jones, whose opinion I respect wholeheartedly. Susan is a professor at UCLA, a Hay House Author and nutrition, health and fitness expert. Susan was telling me about the Intellibed and all its unique features. She certainly got my attention.
Isn't it great when a friend can cut through all the complicated research and just give you the straight facts about something?
Well that's what I felt Susan did for me. She even introduced me to the founders of the Intellibed company. I was so intrigued I had several conversations with them. Please tune in to Healthy Sleep and Weight Webinar to learn more about how and why the IntelliBed is so different and is truly the answer for high quality restorative, non toxic sleep.
Truthfully, I was surprised to discover that most mattresses are toxic. I had even bought myself an expensive memory foam pillow just a few years earlier because I had assumed that it was going to provide me with great support. But I had a lot to learn . . .
What Makes Beds So Toxic?
Susan showed me the research on mattresses and pillows like those made with memory foam and I was shocked to see how toxic they are. That's because most mattresses (and pillows) are made with chemicals that off-gass harmful toxins. I had no idea that I had been spending up to 8 hours each night on a toxic surface! Why is this the case?
It turns out that one of the biggest contributors are fire retardants. New laws were created in 2007 that required mattresses to be able to withstand an open flame of 2000 degrees for longer than 60 seconds. While that may seem like overkill, the mattress manufacturers are forced to comply.
In order to meet those requirements, conventional mattresses are doused with toxic fire retardant chemicals. Many of these toxins are known carcinogens which are either in the mattress, or worse, right on the surface – so that you are breathing them in all night!
Even organic mattresses contain these toxins because wool cannot pass the test of the heat without additional chemicals being added to it.
Worse, bedding companies are not required to disclose the chemical components in their mattresses, which include substances such as Boric Acid, Polybrominated Diphenyl Ethers, Formaldehyde, Antimony and Rayon treated with Silica. Scary, right?!
What Makes IntelliBED Different?
After researching the beds on the market and comparing them to IntelliBed, I realized that for me and my husband, the IntelliBed was the only solution that made any sense.
Intellibed is completely non-toxic and provides proper support, allowing your body to stay in alignment, reducing tossing and turning and making it easier to stay asleep longer.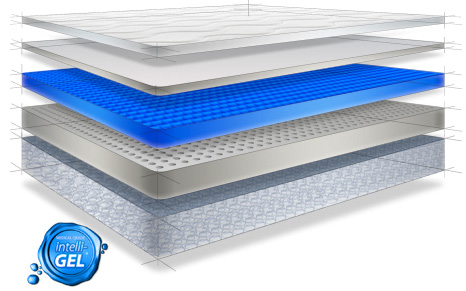 That's because Intellibed uses a pressure-relieving, patented gel, called Intelligel. This is the same gel used in hospitals to avoid bed sores in patients.
Intellibed is the only bedding company using this patented gel technology in beds that are available to the public. It has been extensively tested and found to be completely non-toxic. It's even been approved for use in baby bottle nipples!
The scientifically proven Intelli-Gel, used exclusively in the IntelliBed, reduces pressure on your hips and shoulders by as much as 80% when compared to expensive, but toxic, memory foam or latex foam.
Other gel mattresses that are being sold are as toxic as the foam mattresses and don't perform as well as the patented Intelli-gel, that is used in hospital beds.
There's a good reason why IntelliBed is recommended by over 900 orthopedic surgeons, doctors, acupuncture and chiropractic physicians to their patients.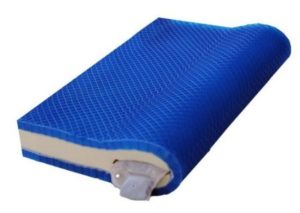 So many Americans are getting poor quality sleep because they are sleeping on an inferior mattress, without even realizing it, which unfortunately, they may have paid a lot of money for. Worse, the materials in conventional mattresses are toxic, but that information is often not disclosed.
My Decision to Get the IntelliBed
After several phone conversations with the founders of IntelliBed, my husband and I decided to get one. We absolutely love it, which is why I want you to know about it.
What's really neat is that the bed is delivered by two professionals who set it up for you in your own home, at no additional charge. And they'll even haul away your old mattress, if you like, which is exactly what we did. It was convenient and easy and I wondered why we didn't do it sooner!
I feel really good about recommending the IntelliBed because I know that this company is committed to providing high quality bedding for non-toxic and completely restorative sleep. They have spent years doing extensive research with that end-goal in mind and are available to discuss openly the materials used to make this superior bed.
Beyond eating healthy, eating less, increasing activity and going inward daily with some form of meditation and self-hypnosis, high quality sleep is one of the most important components to health.
Give IntelliBed a Try!
The owners of IntelliBed have agreed to give my readers and clients 10% off.
Use my coupon code EasySleep at IntelliBed.com to get your discount.
Plus, watch my Sleep to Lose Weight Webinar. After the information packed, brief conversation with co-founder Shawn Clark, you'll discover an incredible $500 bonus of free gifts for my readers and clients, including bamboo sheets and two high-support, non-toxic, IntelliBed pillows.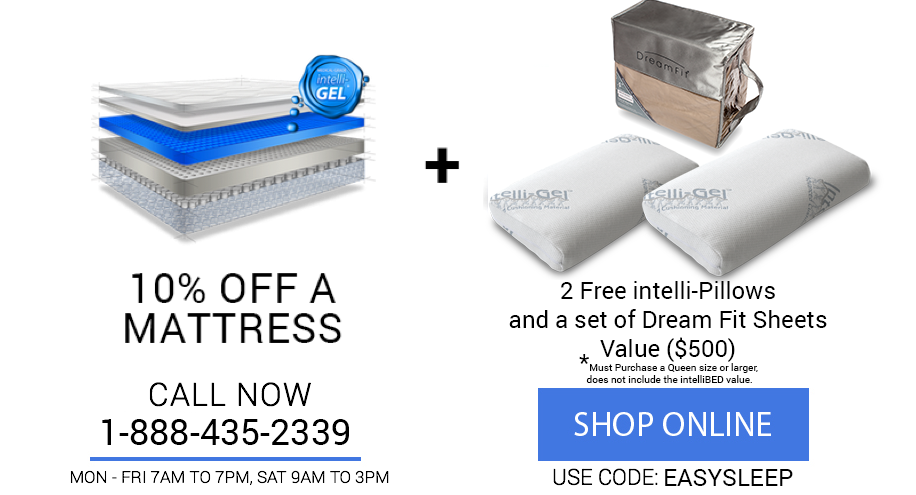 All IntelliBed mattresses come with a 20 year warranty, though they are known to last even longer. Plus, the best part is that it's totally risk-free. If you don't like the bed, they'll come and pick it up and give you a full refund, for up to 60 days! Learn More at: 10% coupon code Easy Sleep

I wish you excellent sleep! Please let me know how you like your IntelliBed!
Here's the link to learn more and get your 60 day trial: IntelliBed
To Your Health & Happiness,
Rena