No Sugar. No Alcohol. No Caffeine. No Fillers.
Tastes Great!
Slender Cider is an herbal weight loss, energy, digestive support concentrated formula
in a base of organic apple cider vinegar that
Nourishes, Balances, Cleanses and Helps Reduce Cravings.
"Drinking Slender Cider is the one daily practice that I would never abandon. This simple routine will give you energy, vitality and strength beyond what you can imagine!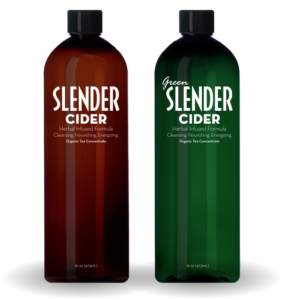 I created Slender Cider for myself to help balance my blood sugar, lose weight, cut cravings and cleanse gently. Wow, did it work! I was so excited about how good I felt when I drank Slender Cider, that I went on to find an expert, distinguished, master herbalist to manufacture Slender Cider.
Slender Cider is made by freshly brewing therapeutic herbs, just like a fresh cup of tea (using no processed powders).
The nourishing and rejuvenating herbs are then mixed in a base of organic apple cider vinegar and combined with healing essential oils.
It's a pure, energizing and alkalizing concentrate. Check it out! George Fowler told me drinking Slender Cider in the morning was like having 5 cups of coffee! Amazing, since there are absolutely no stimulants in Slender Cider—just healing herbs. Cathy, who lost 130 lbs with my program told me that Slender Cider absolutely got rid of her cravings for salt and sugar!"
– Rena Greenberg